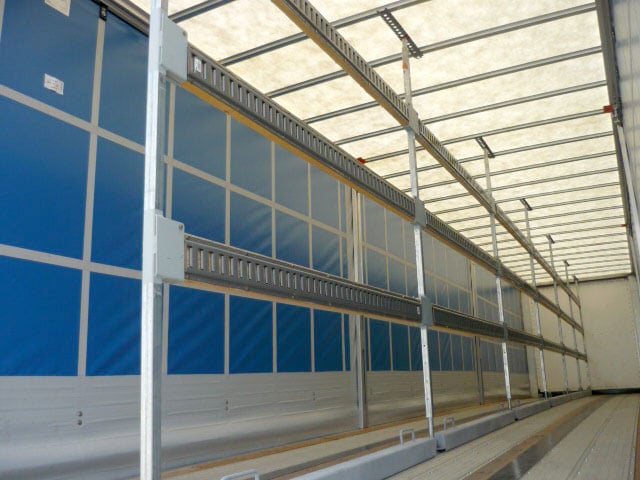 If you are in the business of transporting delicate products such as windows, windshields or other large glass items...
...you must be wondering if it is safe to transport these items in a curtainside trailer. The simple answer is yes. Custom curtainside systems can be fitted to any trailer design, including those with air suspension systems for transporting fragile goods.
Safety
Many glass rack trailers are designed to compartmentalize glass and give it very little room to move. By building racks that fit exactly into the different parts of the trailer, it is possible to move a variety of different sized products without any wasted space. Glass rack trailers often incorporate sturdy retaining poles and straps to keep products in place during shipping. This design ensures that products do not get damaged by banging against one another and that there is adequate support for upright shipping.
Suspension
Glass rack trailers are always built on sturdy, reliable air suspension systems. Since glass is shipped upright on racks, the edges of the glass are prone to shock from uneven roads and potholes. To counter these risks, air ride systems absorb shock from the ground and tires, keeping the glass safe from vertical impacts. The racks themselves also feature foam-like padding ever 8-12" to further absorb any remaining impacts and give glass a soft surface to rest on in the racks.
Convenience
Many glass rack trailers incorporate curtainside technology for added convenience and protection. With individual trolleys or racks that can be side-loaded without disturbing any other products in the trailer, curtainside trailers offer an abundance of convenience for operators. Many of the larger trailers designed specifically for glass transport feature a very low ride height (drop decks) to make it easier for loading and unloading. The closer products stay to the ground, the less risk is involved in the moving process.
Protection
There is some concern about debris from the road damaging delicate products on open sided glass racks. Curtained sides offer additional protection from outside impacts with strong tear resistant fabric.
Roland's custom curtainside systems can be fitted onto any glass rack trailer. Depending on the size and type of trailer that is being used, it is possible to incorporate side and rear loading features, straps and security measures and more. All of your delicate shipments will be safe and secure as the trailer will withstand the hazards of driving on tough roads, while the curtains keep out any danger from outside. When it comes time to unload, it's as easy as pulling back the curtains and removing trolleys or racks one by one from the side without the need to unload the whole trailer to access the products at the very front. This increases efficiency and versatility when making multiple deliveries with shared trailer space.
To learn more about Roland Curtainsides, check out our white paper: