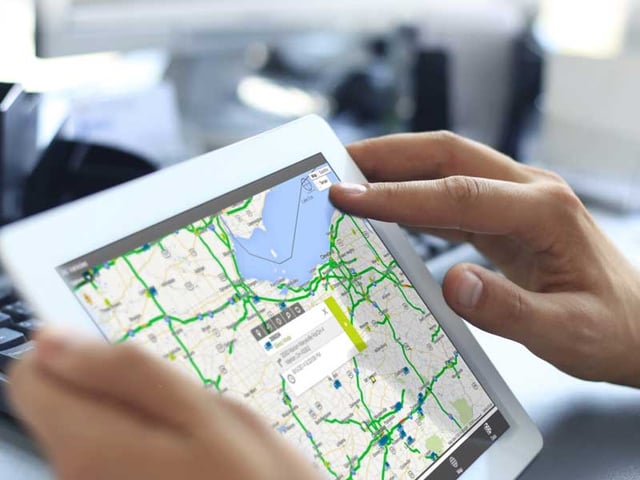 The fleet manager of only a few years ago—confined to an office, tethered to a desktop computer—is history.
Today, the job description has expanded to include multiple functions, many of which require a manager on the move. Mobility imposes the need for mobile connectivity and data accessible far from home base and stationary technology. Apps purpose-designed for fleet managers increasingly enable decision-making in motion. Often these apps are offered as accessories to modern primary fleet management software already in use. Most are available on both Android and iOS platforms for smartphones and tablets. Here are three standout examples that have earned high ratings from users.
From Fleetmatics, a prominent developer of fleet manager software, REVEAL is a field app designed to augment its main platform. REVEAL is intended to unify the mobile needs of fleet managers, dispatchers, and drivers into a single app where all three can receive the same relevant info in the mobile environment. Available at no charge to customers who are already Fleetmatics users, REVEAL offers a number of mobile enhancements. REVEAL benefits include:
The ability to stay in touch with the performance of every vehicle on the road, even when the fleet manager's also away from home base. Performance metrics and benchmarks are viewable on any mobile device not only by the manager but by individual drivers, as well.
Quickly determine the real-time location of each truck in the fleet displayed on a map. Re-direct vehicles on the fly to make an urgent pickup or another task.
Get immediate activity alerts and notifications. Rapidly initiate response and investigations into any incidents that occur on the road.
Create new geofences from your phone anywhere you may be.
Available in both Android and Apple iOS.
The newest generation of Donlen mobile apps designed for fleet managers and fleet drivers. Both FleetWeb Mobile and DonlenDriver Mobile are compatible across all popular mobile platforms. They offer a seamless mobile experience with a new home screen that offers instant access to critical fleet functions. Both mobile apps swap real-time data with Donlen's primary fleet management software, FleetWeb, offering a fleet manager the full functionality on the road as behind the desk.
The mobile app now includes an intelligent fuel station "Find" feature that utilizes an updated algorithm to sort and recommend the most economical fuel providers by location and based the average price, the fuel efficiency of a particular vehicle, the distance to the station and driver time required. Productivity and lower fuel expenses are the goals.
Customer-focused enhancements in FleetWeb now permit fleet managers to evaluate and approve maintenance requests and purchase orders on a smartphone or tablet from a remote location, without the need to access the primary FleetWeb on an office computer.
From Teletrac Inc., an established source of fleet management software, a new line of mobile apps are based on its primary Fleet Director program. Designed for the Apple iPad, Fleet Director Mobile delivers real-time mobile information for managing and tracking fleet assets, anywhere and any time. Managers are empowered to stay up to speed with a busy fleet, collaborate with all players including drivers, maintenance techs, and other employees and make informed decisions. Additional mobile capabilities offered by Fleet Director Mobile include:
Quickly identifying the location of any truck in the fleet.
Ability to monitor vehicle start and stop times to enhance security and facilitate fast response to stolen vehicles.
Monitoring driving habits to enhance individual driver safety as well as optimize fleet performance.
Interested in other ways to keep up with technology? Read up on these apps that make trucking easier. Curtainside trailers are another great way to keep your fleet moving efficiently. Take a look at our curtainside white paper to learn more.