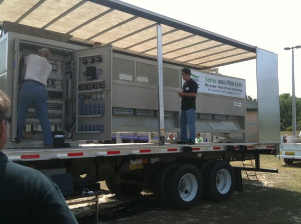 Truck drivers have an on-the-job injury risk that's about three times that of employees in other industries. Roadway accidents account for 25% of driver injuries due to the risks of other drivers, bad weather, and unsafe road conditions. Yet many trucking injuries occur when the truck is standing still and the driver isn't even behind the wheel. The most common injuries are slips, trips and falls; or struck with shifting freight or moving equipment like forklifts. 8% of trucking injuries that result in worker's compensation claims are related to tarping loads on flatbeds.
Reduce slip and fall injuries:
Teach all drivers the

three-point system

for remaining stable when climbing in or out of the truck cab. Drivers should always have

both feet and one hand

, or

both hands and one foot

, in contact with a stable surface when entering or exiting the truck.
Configure all tractors with

proper handholds and footpads

. Steps should have a non-skid surface.

Prohibit drivers from jumping

off shipping docks to the ground or jumping down from the freight bed of the trailer.
Make

non-skid footwear

a necessity for all drivers.
Verify that

dock plates are intact

. Warped or bent dock plates may wobble when stepped on, causing falls.
Enforce

good housekeeping rules

on the shipping docks. Keep the area free of packing material, string, shrink wrap and any other debris that could cause a fall.
Reduce injuries due to shifting loads or moving equipment:
Drivers should

never stand on the opposite side

of a flatbed truck when it is being loaded or unloaded.
When a forklift is loading freight into a trailer,

only the forklift operator

should be inside the trailer. Drivers or other workers on foot should remain outside.

Secure freight

to the truck, shipping container or flatbed trailer with proper use of straps, vertical supports and load bars. This will ensure that it does not shift during transport, posing a hazard to drivers or others when unloading occurs.
Drivers who leave the cab of the truck while loading or unloading is underway should

wear high-visibility vests

at all times.
Reduce tarping injuries:
Drivers should always

request the shipper to lift

the heavy tarp up onto the freight bed with a forklift, instead of lifting it themselves.
Flatbed drivers should

carry a ladder

to access the top of the load rather that attempting to climb up on the load itself.

Take frozen tarps indoors

to thaw to make them easier to handle and reduce the possibility of injury.
Drivers should

not stand upright

on a tarped load. If they must move across the load, they should crawl on all fours. Even when crawling, drivers should take care not to place their weight on voids covered by a tarp.
If possible,

tarp on the leeward side

of the building for protection from wind that may catch an unfolding tarp and pull the driver off the bed.
Instruct drivers to

always use a tarping station

when available, even if they have to wait to do so.
Use curtainsiders instead
Curtainside trailers do not need tarping. They take the safety hazard out of hauling flatbed loads and reduce driver injuries, worker compensation claims and lost hours. Contact a Roland Curtain representative to find out how you can transform your flatbed into a curtainside trailer!