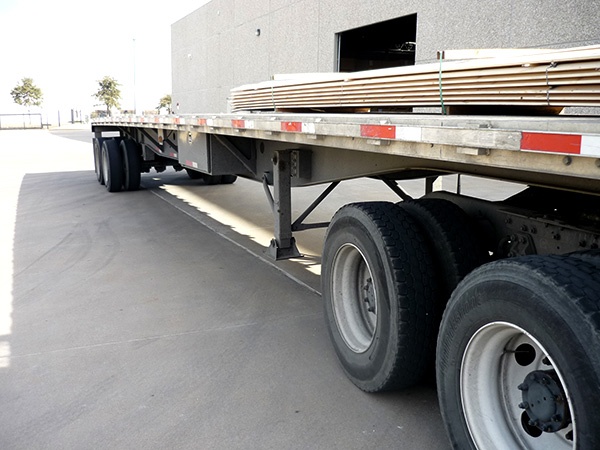 Some costs of operating a fleet are beyond your control: fuel prices that rise and fall with the international market, insurance, and necessities like the cost of finding and training drivers. However, you're not totally without options in the fight to reduce operating costs of a fleet. Numerous opportunities exist to make changes and improve the bottom line. More good news: many changes that lower costs also make your fleet more efficient and productive, as well as increasing customer satisfaction. Take a closer look at your own operation and you can probably come with a number of ways of cutting unnecessary expense. Meanwhile, here are three examples to start with:
1. Consolidate And Eliminate
If surplus trailers are languishing on the lot awaiting infrequent use—more flatbeds than you need, for example, while your van trailers are over-utilized—they're probably not paying for their own upkeep, insurance and license fees.

Evaluate your usual load mix as well as the distance of average hauls and determine how much use you realistically get out of each trailer.
Then, assess whether it's worth keeping in the fleet. One good way to eliminate excess rolling stock is by consolidating functions wherever possible.
Options like curtainside trailers perform dual-purpose as both flatbeds and enclosed vans, allowing you to streamline the total number of trailers in the fleet and cut costs. Curtainsides can be custom-built from the ground up to your specs, or one of your under-used flatbeds can be converted to a multi-purpose curtainside with a conversion kit.
2. Automate Maintenance
Preventive maintenance is a necessary expense for optimizing reliability and service life of vehicles. It's critical to minimize expensive surprises that take a truck off the road and idle a driver—usually at the worst possible time.

Maintenance software standardizes scheduling of routine upkeep and keeps up with the inventory of parts typically replaced.
Still newer technology more closely integrates the vehicle with the maintenance shop by using telematics that report general parameters such as mileage, engine hours and fuel consumption of a truck. Other, more vital signs like engine diagnostic fault codes and performance data alert the shop that acute problems may be developing before they turn into a breakdown.
Maintenance software reports in advance when routine upkeep is due, allowing managers to assign available technicians more efficiently and reduce unnecessary labor hours.
The system can also identify failure trends in particular makes or models of trucks, plus provide necessary back-up data when you need to file a warranty claim to get necessary components and labor performed by the vehicle manufacturer.
3. Track To Save
Use of a GPS tracking system helps boost productivity while paring a number of fleet-related costs.

By pre-determining the most efficient routes for drivers, then implementing with in-vehicle GPS tracking, unnecessary mileage and fuel expense, as well as excess overtime, can be curtailed.
Vehicle wear and tear is also reduced. According to a leading industry research group, use of GPS tracking can help reduce fuel-related fleet expenses by over 13 percent.
GPS systems typically enhance eligibility for insurance discounts as well, as the system functions to enforce company limits on maximum speeds and ensures that drivers avoid unsafe routes and unapproved detours.
Our knowledgable team can advise you on how curtainsides can improve efficiency and streamline your unique fleet. For more info drop us a line here: