The ways to spend money on mobile advertising are almost unlimited. For most companies however, the budget available is very limited. It pays to be selective and devote those funds to the most cost-effective media to generate the highest number of positive impressions per dollar. If you own a curtain side trailer, you already own almost 800 square feet of potential ad space that are being exposed to as many as 60,000 to 100,000 people every day as your truck rolls down the road. Printing the curtain on both sides of the trailer with your identifiable logo, company slogan and/or other eye-catching graphics is a great option to put your message on the road in a high-profile way, at low cost.
According to a survey by the American Trucking Association, 91 percent of drivers report that they notice and tend to recall logos and company brands displayed on fleet vehicles. 75 percent reported a favorable impression when colorful icons and graphics were included. You already know the daily advantages and efficiency of a curtain side trailer for moving freight. Versus available options, here are some of the benefits of turning your curtain side trailer into a vehicle for advertising your brand as well.
More lasting impressions and higher recall per dollar. Billboards remain in one place and tend to create a high percentage of repeat impressions on the same people; i.e., those that drive that route daily. Unfortunately, as the same people see the same stationary advertising repeatedly, it tends to blend into the background. The impact and recall of the ad diminish steadily and impressions-per-dollar decline. Curtainside advertising is continuously on the move and exposed to a wider and ever-changing market as your vehicle travels the roads. The message stays fresh and doesn't lose value like a stationary ad. More lasting impressions per each advertising dollar mean greater cost-benefit.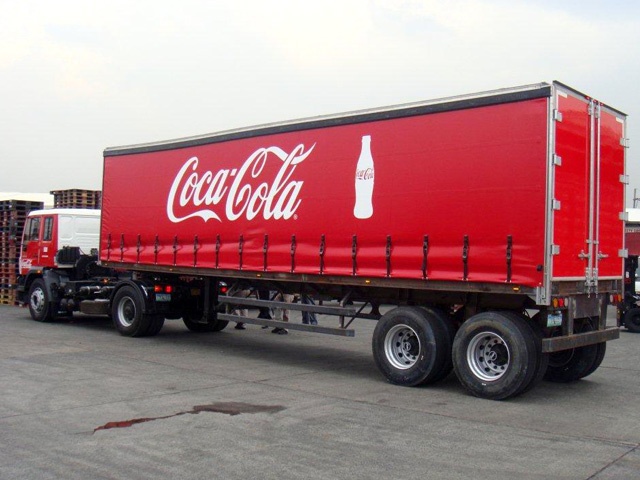 Lower and fewer costs. Another inherent downside of stationary outdoor advertising to motorists is: you don't own the ad space. Billboard space and signs are typically rented and incur a recurrent expense. Rental rates rise steadily as the owner passes along the cost of maintaining the billboard and leasing the land it's on. A multi-color, high-resolution ad on a curtainside represents a one-time expense for you with minimal maintenance costs. From day one, it's an advertising money-maker, not an ongoing drain on your budget. Studies show that the initial and long-term expense of renting billboard space can be 4 - 5 times more expensive than curtainside advertising.
Higher visibility and reinforced impressions. An eight-foot high, 53-foot long curtain side trailer provides more available ad space at a lower ongoing cost per square foot than the typical 10-foot-by-30-foot roadside billboard. In addition, your advertising is more up-close and conspicuous to motorists and pedestrians traveling the same road. Exposure is typically longer-duration as well. Stationary signs and billboards are glimpsed for a passing fraction of a second. Because ads on curtain side trailers in traffic are often viewed multiple times over a longer time span by cars sharing the road, the impression generated by the ad is multiplied.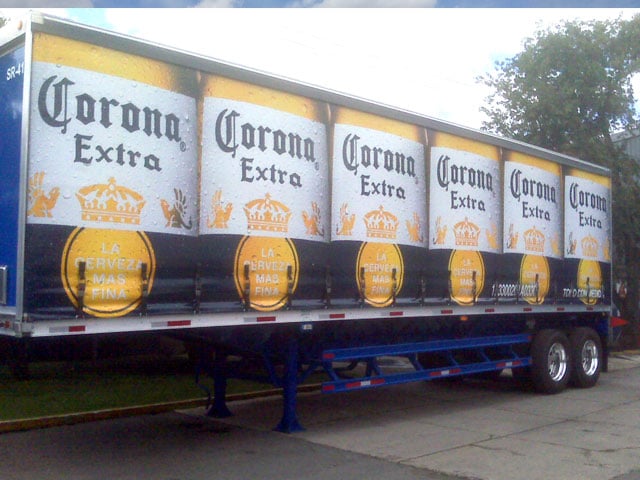 If you want to see other samples of some of the curtainside graphics and advertising Roland Curtains, Inc has done for our clients, please click this link. If you would rather hear a client talk about their experience converting some flatbeds to curtainsiders and check out the Free Case Study below!