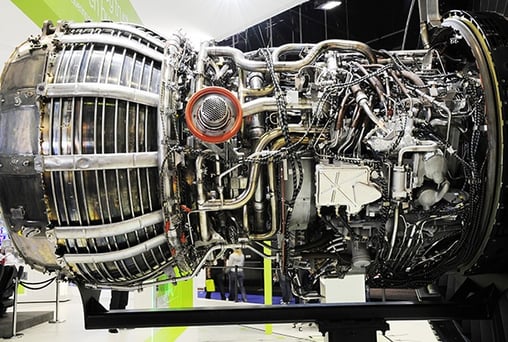 Aircraft engine transportation is a specialty in both the freight being hauled and the equipment required to do it in compliance with strict standards. A curtain side trailer is one of the elements uniquely suited to this very unique load. While it's definitely specialized cargo, depending on your location, the profitable opportunity to haul a large aircraft engine may not be a rare occurrence: Big aircraft engines are often swapped out rather than repaired on the plane, in order to save time and get a working airplane back into the air, ASAP. Consequently, airlines and airplane manufacturers routinely have replacement engines in transport all around the country and around the world. A curtain side trailer along with the very specific expertise to meet the demands of the job opens up this money-making specialization.
Large jet engines start around $250,000 in value and soar into multi-million dollars. If any damage or mishandling is suspected after transport of these valuable, safety-critical components, extremely expensive diagnostic tests will be ordered before the engine can be put into service. The preferred method for hauling these assets is a truck and trailer—not the railroad. That's because truck transport companies and drivers can generally give the individualized attention necessary to transport this demanding cargo safely and securely.
Here are a few reasons why a curtainside uniquely equips you to take advantage of opportunities for jet engine transport.
All-Side Access
Aircraft engines are typically elongated machinery that requires continuous front-to-back support at all times during the loading process to avoid imposing unacceptable stress. For this reason, loading through the rear door of an enclosed van trailer can be problematic. Virtually all aircraft engines adapt better to open side-loading. A curtainside makes full access from either or both sides as simple as retracting a curtain, then closing it afterwards.
Stand Support
Aircraft engines are never simply loaded directly onto the deck of a trailer and then strapped down. They are generally accompanied by a purpose-built, shock-mounted transportation stand that must be secured to the deck to cradle the engine without imposing damaging stress. Curtainside-style full access from both sides is useful to properly secure the stand to the deck at multiple points.
Tarping Not Required
Though they may produce thousands of pounds of thrust and endure temperature extremes, aircraft engines are actually delicate machinery. A heavy tarp and straps cinched tight over an engine as required on an open flatbed can impose undesirable pressure and inflict strain on engine components that aren't designed for that particular stress. Even the impact caused by simply a loose portion of tarp flapping in the wind on a standard flatbed can be enough to damage the engine if it happens to affect certain components. These potential issues are completely eliminated with a curtain side trailer that provides the full access of an open flatbed but the full shelter and security of conventional van—without the need for tarping.
Privacy And Security
A large aircraft engine in transport draws a lot of attention if it's on the back of an open flatbed. People are naturally curious, but some of that curiosity may be unwanted. The extremely high value of these engines, as well as safety factors, makes it a better idea to transport them away from the public eye, behind the enclosing, protective curtain of a curtain side trailer.
You may also like this article: